One Leisure offers a range of swimming lessons for all ages and abilities. Plus Swim4Life students get free swimming at our general pool sessions*.

Pool Timetable CLICK HERE
To book please visit your local centre or call the team on 01480 388111

Check your childs progress through our HomePortal. Register your child and check progress weekly! Move you child when they have passed a new stage and find out what skills need some help. This tool is great to keep you child up to date with their progress and motivate them to achieve that next badge and certificate.
Parent Home Portal
Bring the fun of swimming lessons home and celebrate children collecting more Swim England Learn to Swim Awards by unlocking more characters and stickers as they progress through the Swim England Learn to Swim Programme. 
Download Swim England App

Discovery Ducklings
Our adult and toddler lessons promote early water confidence and basic motor skills and underpin Stages 1-7. They are linked to the early years foundation stage for child development and encourages a fund and friendly environment. 
Discovery Ducklings are suitable for babies and young children who are new to swimming. They are a great way to get adults more involved with their child's swimming and helps both parents and children enjoy swimming in a safe environment.
Parents must accompany children in the water.
Ducklings
Duckling awards are suitable for young learners who are able to listen to basic instructions and/or copy basic skills demonstrated to them. This stage encourages learners to move independently and helps gain water confidence. Games are introduced for the fun and also to help achieve the outcomes.
Parents are NOT in the water for afternoon sessions. 
Once Duckings has been completed swimmers will receive a BRONZE medal for FREE.
Stages 1 - 7
In these stages we develop confident and competent swimmers, learning through fun and enjoyment.
Stages 1-7 are the core of the programme and the backbone for swimming lessons. Each of the 7 stages have clear set outcomes for the learners to achieve all 4 strokes whilst continuing to develop a number of skills.
Once Stage 7 has been completed swimmers will receive a SILVER medal for FREE.
Stages 8 - 10
The Learn to Swim Stages 8-10 Awards make up the Aquatic Skills Framework of the Learn to Swim Programme. They continue the swimmer's journey past stage 7.
Swimmers are encouraged to take part in different aquatic disciplines that develop their fundamental sports skills. At One Leisure we are continuing with swimming. 
Once stage 10 is completed swimmers will receive a GOLD medal for FREE.
Adult Lessons
Offering a fantastic facility for adults to learn to swim.
Beginners: For swimmers that want to learn the basic swimming techniques, combat their fear of water or build confidence.. 
Improvers: We can teach you all about improving basic strokes, show you how to comfortably thread deep water and boost your endurance and technique.  
Advanced: For confident swimmers who want to work on specific swimming skills like sculling, diving, tumble turns, want to refine strokes or work on stamina.
Monitor your child's progress through our online portal.
30 minute lessons are £30.00 per month by direct debit per child and include free swimming for the student at our general swim sessions.
OR
£120 for a 15 week block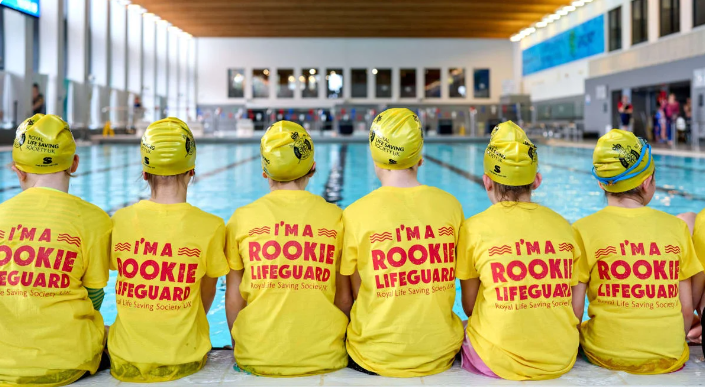 Rookie Lifeguards
RLSS UK's Rookie Lifeguard programme is taught using colourful materials, and fun, varied lifesaving and rescue activities to give children the skills they need to be confident in the pool or the sea and enjoy water safely, whether in shallow or deeper water. RLSS UK's Rookie Lifeguard programme gives your child the skills they need to be confident in the pool or the sea – which means peace of mind for you. With colourful materials and fun, varied activities, the Rookie Lifeguard scheme teaches children how to swim and enjoy water safely, whether in shallow or deeper water.
Rookie lifeguard sessions:
One leisure St Ives, Tuesday's 17:30. £30 per month for 30 minute sessions. 
One Leisure Ramsey, Thursdays 6pm - 7pm. £60 per month for 60 minutes lessons. 
Book by calling 01480 388111 or visiting your local leisure centre and setting up a direct debit. Certificates and badges are chargeable at £3.50 per set.
*When paying by direct debit.
---